I'll try to give you the condensed version… I grew up in Iowa in a great Christian household where church was very important. I went to a Catholic school, so I had religion classes from first through 12th grade. My mom even worked at the church and the school. She just recently retired from that to work for the governing body of the archdiocese. So, I certainly grew up in a Christian household—Jesus was very much the foundation.
For me, however, it felt like I was just following the footsteps of friends and more or less doing what I was told to do. So, after high school, I went my own direction. It was Zach's agenda; whatever I wanted to do, I did it. My faith didn't carry much significance.
I graduated from Drake University in 1998 and started playing golf on the mini tours and traveling around the United States. In the winters I would go to Florida to practice.
Then, in 2000, I met a girl named Kim. I really liked her. We hit it off and soon started dating. I was still traveling during the summer seasons, but we maintained our relationship. Over time, I realized that faith in Christ was extremely important to her and that marrying a Christian man was pretty much a dealbreaker for her.
 "Before I was one, I always thought being a Christian would be boring. In reality, it has been the complete opposite."
At that point in my life, I knew there was a God. I knew there was an ultimate creator—someone watching over things—but I didn't give it much thought. In order for Kim and me to find out if we were best for each other, we took a pre-engagement class together at a church. Through that, not only were a lot of my questions answered, but a lot more surfaced. But that's where God took over. With the research I did in response to those questions and with help from Kim and other Christian friends, I discovered what it meant to "live for Christ," and that it honestly was something I wanted to do. The facts were there, and I could sense the Holy Spirit at work. Early in the winter of 2002, I gave my life to the Lord.
Since then, my priorities have certainly changed. It's not Zach's agenda anymore.
I refer to the years after high school and before making my decision as my "blind years." Now, I can see.
Before I was one, I always thought being a Christian would be boring. In reality, it has been the complete opposite. There is joy, fulfillment and even fun! There also are challenges and trials, but knowing that my foundation lies in Jesus and what He has done for me is what is important. It's all that matters.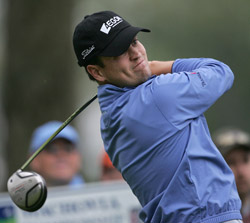 Feb. 24, 1976      
Birthplace: Iowa City, Iowa   
Turned Pro: 1998               
College: Drake University (1998)
Major: Business Management/Marketing
Swings: R
Family: Wife–Kim; Son–Will
Recent Highlights: Earning a green jacket by winning the 2007 Masters 

Zach Johnson

Birthdate: